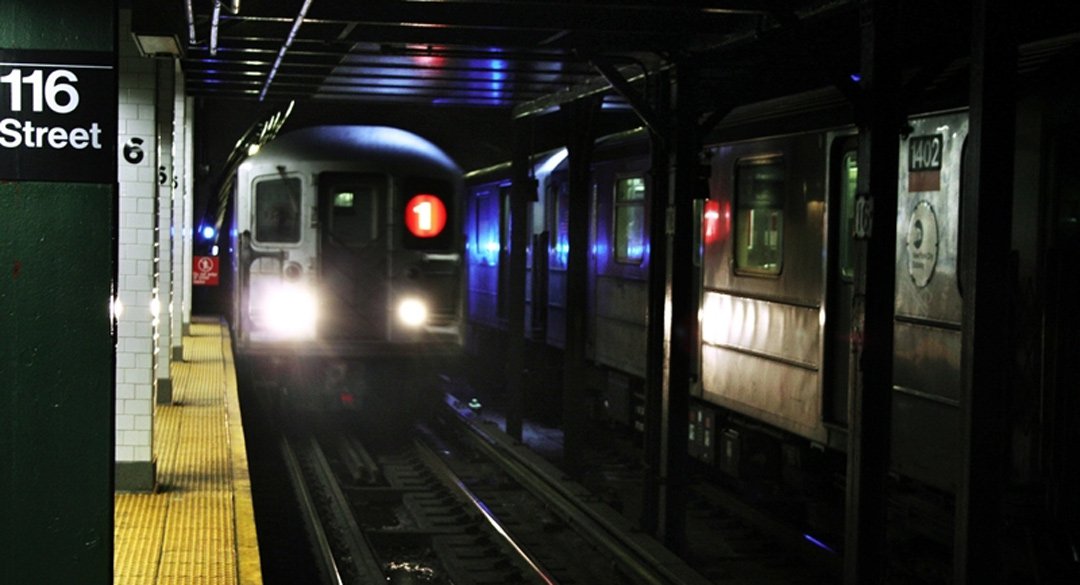 According to the Metropolitan Transportation Authority, over 1.6 billion people took the New York City subway in 2011, making it one of the top 10 busiest subway systems in the world. While the public transportation system is one of the greatest perks of living in New York, for some, a crowded subway can be a source of anxiety, stress, discomfort, or it can even trigger a panic attack.
Taking the subway is an experience that's fraught with unpleasantness, and you're not the only one who thinks so. Over the years I've met so many people who dread the subway. On any given day, if you look around the subway car, I'm sure you're looking at least a few people who feel exactly the way you do.
So, as someone who takes the subway daily and finds the experience challenging at times, how do I keep my cool on a crowded train? These are my eight go-to tips for staying sane on the subway.
1. Build your bubble.
Build yourself your own personal bubble, whether it's by wearing sunglasses, wearing headphones, or immersing yourself in a book. Take deep breaths and visualize that you are gliding through the platform encased in a bubble. Remember that what you listen to matters. Guided meditations, relaxing music, and certain inspirational, grounding audio books can help you stay calm. Some of my favorite audio books are "Full Catastrophe Living" by Jon Kabat-Zinn, "Daring Greatly" by Brene Brown, and "A Return to Love" by Marianne Williamson. "Peace is Every Step" by Thich Nhat Hanh is another great, one, though it's not available as an audio book. I also like to utilize soothing apps and websites like Buddhify, Headspace, Zencast, and Calm.com.
2. Talk yourself through your worst-case scenario.
Many people have anxiety on the subway because they feel trapped. Then they compound that anxiety by imagining, "If I were to have a panic attack here, I would have no way to escape."
If you begin to panic on the subway, take a deep breath. If you're standing, ask someone to give you their seat. You can explain that you're not feeling well. Lean forward, lower your head to heart-level, or even lower, to help return blood flow to your brain. I encourage you to let go of concerns about this being odd or embarrassing behavior. Who cares? Do what you need to do to take care of yourself. Most people will probably understand. And remember, most people are so absorbed in their phones, they're not even noticing you!
Always remember that you're not trapped. You can get off at the next stop and sit on a bench or leave the station. Finally, even if you associate the subway with having panic attacks, just remember how many times you've ridden the subway without having a panic attack.
3. Live well off the train.
Building stress management into your daily life will make any anxious situation–including crowded rush hour trains—more bearable. Get enough sleep, incorporate some physical activity into your day, and make sure you have some stress management tools (e.g., yoga, meditation, breathing exercises) built into your daily life. Recognize when you're in what Julia Ross calls a "false mood" — Did you not get enough sleep? Is your blood sugar crashing? Are you drunk? Hungover? Over-caffeinated? In caffeine withdrawal? Are you eating something that your body doesn't tolerate? Are you taking a medication that alters your mood? Notice these things and take care of yourself.
4. Just breathe!
Use breathing exercises to lower your overall anxiety level. If you know you're prone to elevated stress on the train, stay in control by focusing on your breath. Inhale for four counts, hold for two counts, then exhale for four counts. This is similar to the way you breathe when you're asleep, and it puts the body into the relaxation response.
5. Find your inner Buddha.
Meditation is a powerful way to start and end the day—usually the two times you find yourself on the subway. Think of your commute as an opportunity for mini meditations. It's great if you can sit on the subway and listen to a 5 or 10 minutes guided meditation. But even focusing on your breathing for 30 seconds is better than nothing.
6. Let go of judgment.
Remember that your fellow riders are not bad people—the subway is just a small space for a lot of people. Being conscious of this can alleviate the tension you feel towards the people around you, especially when you're trapped in such close quarters.
7. Streamline the process.
Your daily commute can be a lot less stressful if you streamline the logistics. Consider using a backpack instead of a purse or brief case. It's better for your neck and back, and it keeps your hands free. Keep your Metrocard in an easily accessible place so you can grab it, use it and put it away all with one hand. I keep mine in a pocket attached to my phone (it's called Card Ninja). Do you get coffee before you get on the train? Get it after so you're not juggling more things during your commute.
8. Be courteous.
At the end of the day, we're all in this together. Be kind to your fellow passengers and you'll find it makes your own experience more positive as well.
The One Medical blog is published by One Medical, a national, modern primary care practice pairing 24/7 virtual care services with inviting and convenient in-person care at over 100 locations across the U.S. One Medical is on a mission to transform health care for all through a human-centered, technology-powered approach to caring for people at every stage of life.
Any general advice posted on our blog, website, or app is for informational purposes only and is not intended to replace or substitute for any medical or other advice. 1Life Healthcare, Inc. and the One Medical entities make no representations or warranties and expressly disclaim any and all liability concerning any treatment, action by, or effect on any person following the general information offered or provided within or through the blog, website, or app. If you have specific concerns or a situation arises in which you require medical advice, you should consult with an appropriately trained and qualified medical services provider.