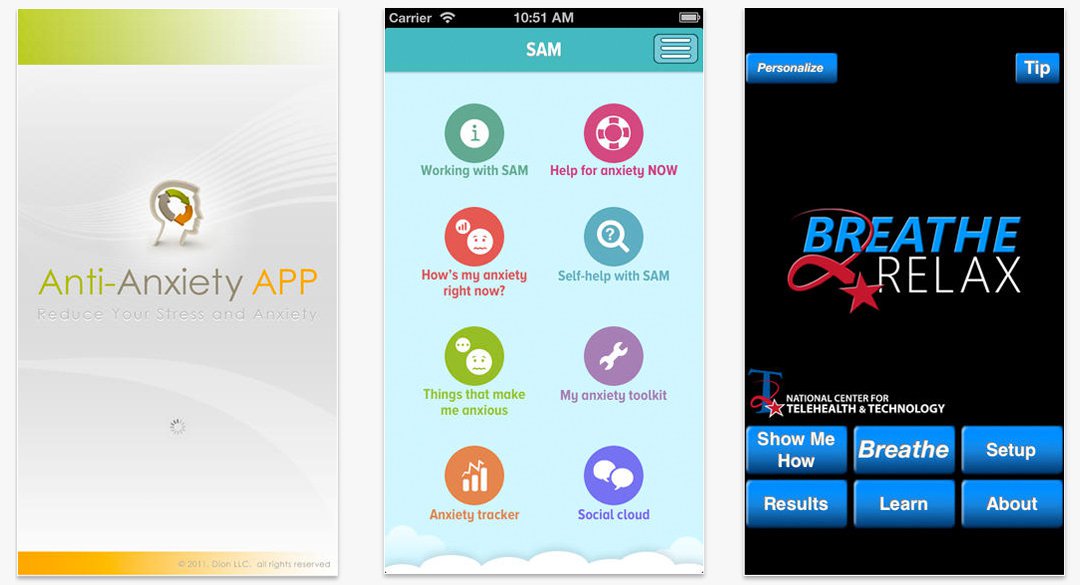 Everyone experiences anxiety from time to time. Although working with a trained professional is the best way to deal with a chronic issue, certain skills and techniques can help lessen the intensity of the worry, dread, and fear that accompany anxiety. Technology offers a wide assortment of anxiety-relief tools that are accessible anytime, anywhere. From guided breathing exercises to sound therapy to an introduction to hypnosis, here are 10 apps that can help ease everyday anxiety.
1. Breathe2Relax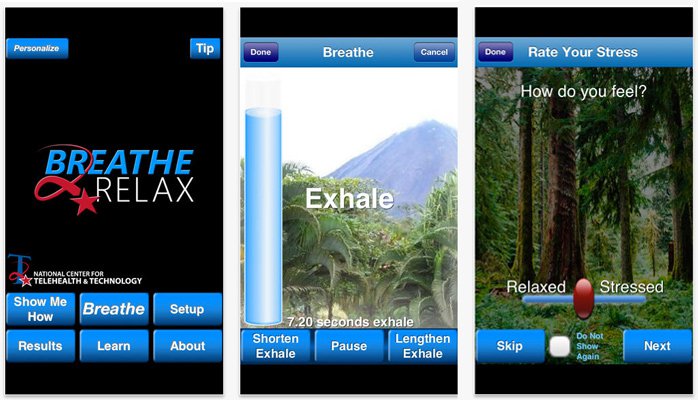 Simple breathing techniques can be a powerful stress management tool. Breathe2Relax teaches diaphragmatic breathing techniques to lower your "fight-or-flight" response and calm you down.
Available on: iPhone, iPad, iPod Touch, and Android
Price: Free
2. Breathing Zone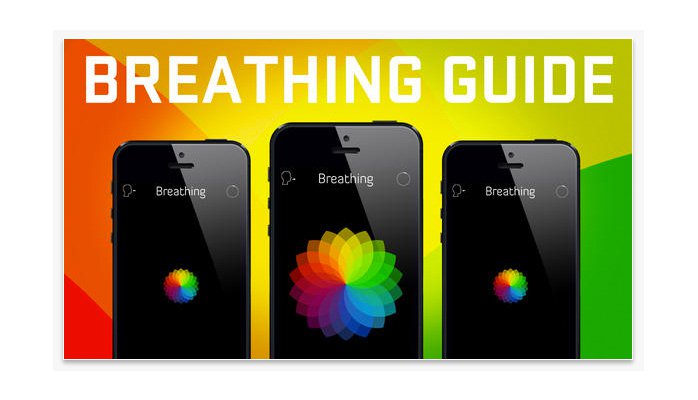 Therapeutic breathing benefits your brain and mood, and can actually help decrease your heart rate and lower high blood pressure. Breathing Zone offers detailed instructions and a Breathing Analyzer to measure your breathing rate.
Available on: iPhone, iPad, iPod Touch, and Android
Price: $3.99
3. Room to Breathe Meditation
After a five-minute introduction, Room to Breathe creator and narrator Georgina Lofty, a licensed marriage and family therapist, takes users through a 15-minute guided breathing meditation that's straightforward and easy to follow.
Available on: iPhone, iPad, iPod Touch, Android
Price: $0.99
4. Inner Balance by HeartMath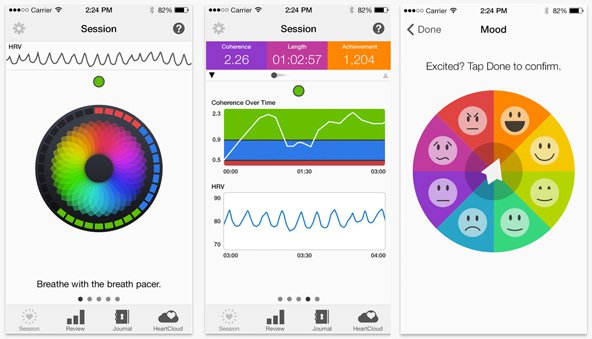 Inner Balance helps you understand your moods, alter your reactions to stress, and manifest a more positive attitude. By plugging the special HeartMath Sensor onto your phone and inserting the ear piece into your ear, the app captures your heart rate and paces your breathing to calm stress and anxiety. You can also track your progress, journal your accomplishments, and share your insights with others.
Available on: iPhone, iPad, iPod Touch
Price: Free + $99 for the Inner Balance Sensor for iOS.
5. Anxiety Free
If you've ever been curious about hypnotherapy, Anxiety Free is a great introduction to self-hypnosis. The audio recordings contain subliminal signals that help listeners deeply relax and tap into their subconscious thoughts.
Available on: iPhone, iPad, iPod Touch
Price: Free
6. Self-help for Anxiety Management (SAM)
Developed by a team of university psychologists, computer scientists, and students, SAM provides 25 self-help options, including information about anxiety, tools for physical relaxation, mental relaxation techniques, and more. The app includes guidance for putting self-help into practice and a closed social network for SAM users to support and motivate one another.
Available on: iPhone, Android
Price: Free
7. Anti-Anxiety
Created in collaboration with a licensed clinical psychologist, Anti-Anxiety utilizes a diagnostic questionnaire to assess stress and anxiety levels, and tailor a customized therapy program that includes instructional videos and workbook exercises.
Available on: iPhone, iPad, iPod Touch, and Android
Price: Free
8. Relax Melodies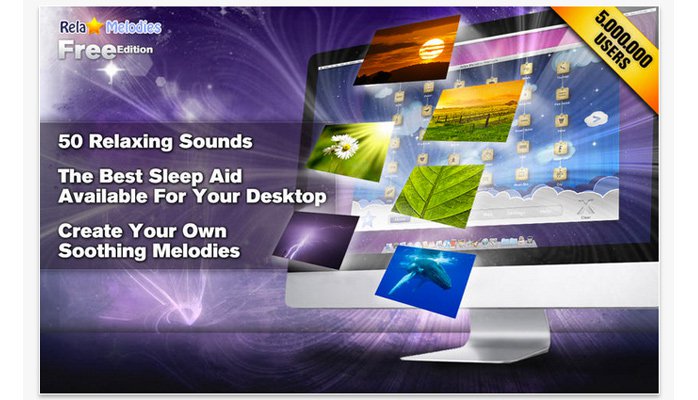 Whether you have trouble falling asleep or you're just trying to drown out loud talkers on public transportation, Relax Melodies will equip you with an arsenal of calming sounds. Create your own personal mix from a variety of 50 ambient sounds and a variety of beats.
Available on: iPhone, iPad, iPod Touch, Android, and Windows Phone
Price: Free
9. Nature Sounds Relax and Sleep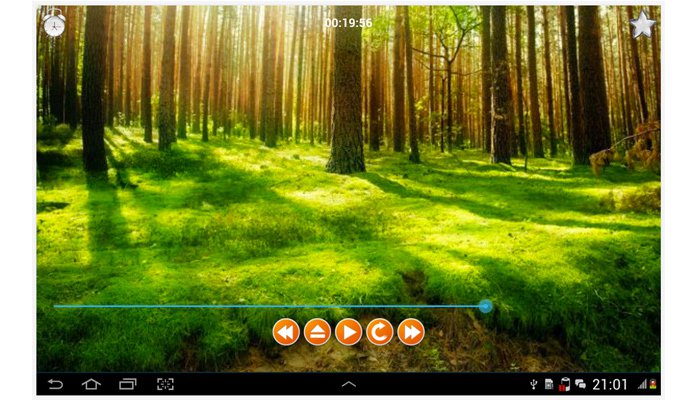 If you find serenity in the great outdoors, but are stuck inside, Nature Sounds Relax and Sleep is a great way to bring nature indoors. Immediately transport yourself to a variety of locations from the ocean to the jungle through a selection of authentic sounds and eye-catching photography.
Available on: Android
Price: Free
10. Calming Music to Simplicity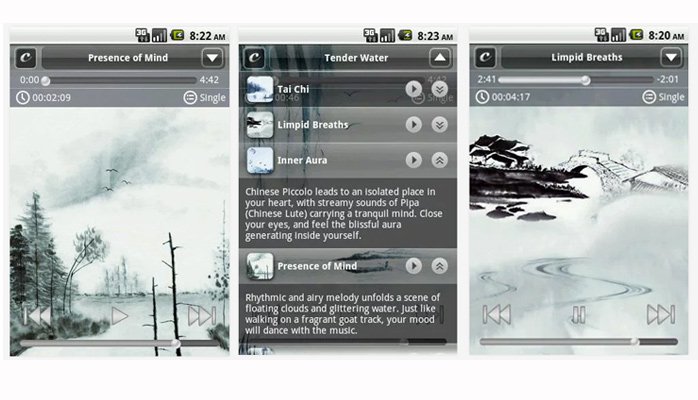 Inspired by Tai Chi, Calming Music to Simplicity offers nine pieces of traditional Chinese music to promote relaxation and rejuvenation through different meditative states. Each selection is accompanied by a detailed description and tranquil background wallpaper.
Available on: Android
Price: Free
Looking for more tech-savvy ways to relax? Be sure to check out these eight meditation apps.
The One Medical blog is published by One Medical, a national, modern primary care practice pairing 24/7 virtual care services with inviting and convenient in-person care at over 100 locations across the U.S. One Medical is on a mission to transform health care for all through a human-centered, technology-powered approach to caring for people at every stage of life.
Any general advice posted on our blog, website, or app is for informational purposes only and is not intended to replace or substitute for any medical or other advice. 1Life Healthcare, Inc. and the One Medical entities make no representations or warranties and expressly disclaim any and all liability concerning any treatment, action by, or effect on any person following the general information offered or provided within or through the blog, website, or app. If you have specific concerns or a situation arises in which you require medical advice, you should consult with an appropriately trained and qualified medical services provider.