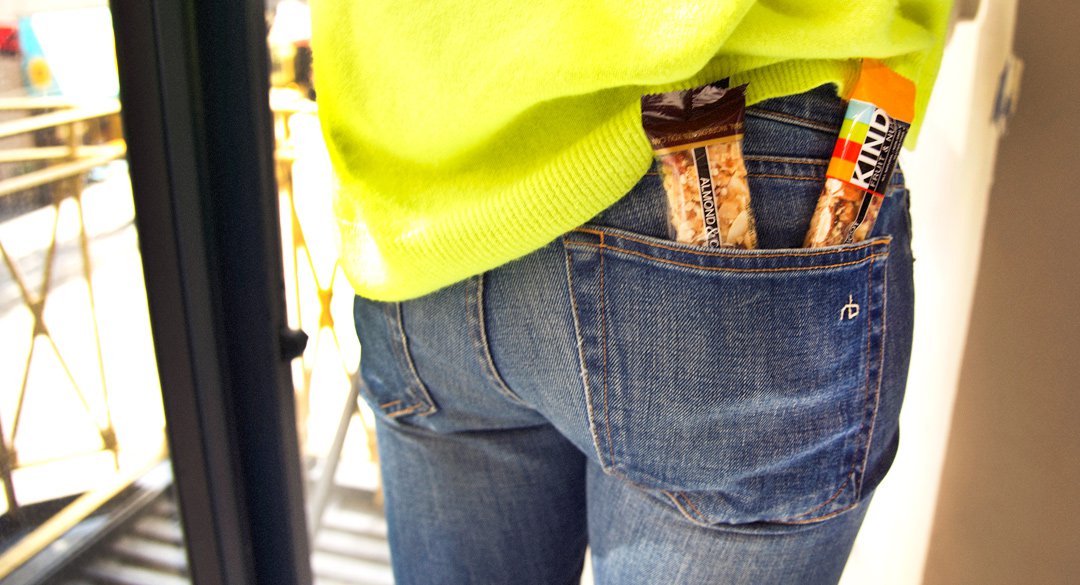 Even if you don't regularly eat KIND bars, you've seen them. According to "Fortune," they're the fastest-growing energy and nutrition bar in the country, available in 80,000 locations nationwide. Whether you've spotted them at your local convenience store or Whole Foods, they're plastered with wholesome claims. Bars made of chocolate-covered almonds and maple-glazed pecans are sold as low-sugar, gluten-free goodies packed with protein and fiber. The dessert-like treats' paradoxically healthy profile seems almost too good to be true—and according to the Food and Drug Administration (FDA), it is.
What are the claims?
In a warning letter to KIND last month, the FDA ordered the company to stop labeling several of their flavors as "health snacks" because the products "do not meet the requirements for use of the nutrient content claim 'healthy' on a food label." The flavors in question are KIND Fruit & Nut Almond & Apricot, KIND Fruit & Nut Almond & Coconut, KIND Plus Peanut Butter Chocolate + Protein, and KIND Plus Dark Chocolate Cherry Cashew + Antioxidants.
The agency's main gripe is that these flavors contain more than one gram of saturated fat per serving — the maximum allowed for products to be considered "healthy." The American Heart Association recommends just 13 grams of saturated fat per day, and several of the flavors contain between 3 and 5 grams in one serving.
"I agree with the FDA that an excessive amount of saturated fat intake does remain a common and relevant concern in the typical standard American diet," says nutritionist Samantha Treyve, MS, RD. "However, the FDA neglected to weigh in on the different types of saturated fats and how they impact the body differently depending on the type consumed." Treyve calls this "a classic case of throwing the baby out with the bath water, because while the FDA's main intent may have been to steer companies away from added creams, butters, and processed oils, they are inadvertently demonizing healthier saturated fats as well."
Are the bars really bad?
Aside from the saturated fat content, the FDA also took issue with other words and phrases on the KIND wrappers, including "good source of fiber," "no trans-fat," "very low sodium," and more. The agency claims that because the KIND Plus Peanut Butter Chocolate + Protein, and KIND Plus Dark Chocolate Cherry Cashew + Antioxidants labels do not explicitly state the recommended values for protein and antioxidants, respectively, the products are not allowed to contain plus signs in their names.
Although KIND has agreed to adjust the labels of its products to meet FDA standards, the company maintains their "snacks remain a safe and nutritious choice for fans and their families." In a statement on their website, the company says that nuts — the primary ingredient pushing most of the products over the FDA's saturated fat limit for healthy foods — "are wholesome, nutritious, and healthful," according to "an overwhelming body of scientific evidence."
Who should I believe?
Recent research has supported the notion that nuts are beneficial. Two long-running Harvard studies involving nearly 120,000 participants found that people who ate nuts every day were 20 percent less likely to have died during the course of the study and less likely to die of cancer, heart disease, and respiratory disease. And a previous analysis found that eating nuts lowers LDL ("bad" cholesterol), raises HDL ("good" cholesterol), and lowers blood pressure. Nut consumption was also found to boost reverse cholesterol transport, or the ability of HDL particles in the blood to sweep away fatty plaque from clogged arteries.
"I encourage my patients to consume nuts on a regular basis, as they are cardio-protective and not typically associated with weight gain," Treyve says. "That is, of course, if they don't go crazy — a small handful as opposed to a can."
While the nuts in the bars may be healthy, nutritionist Karyn Duggan, CNC, agrees with professor and author Marion Nestle, who supports the FDA and believes the honey and other added ingredients used to bind the nuts may compromise KIND's health claims. Although KIND bars contain heart-healthy nuts, they don't help consumers reach their vegetable goals or cut back on the sweet stuff.
How do I pick a healthy bar?
While Treyve doesn't encourage her patients to rely on snack bars on a daily basis, she believes the right ones can be a healthy substitute for less wholesome options. "I would rather opt for a KIND bar or something similar as opposed to a Snicker's bar, which contains not only saturated fats, but also trans-fats and high fructose corn syrup," she says.
The key to choosing a bar is to focus on the overall quality of ingredients, not just the nutrition label. "I am not discrediting the effectiveness of labeling used as a guide, but it's important to be aware that in general whole foods will be metabolized more effectively than processed foods," Treyve explains.
If you must go for a bar, Duggan and Treyve offer the following helpful tips:
Choose a product with recognizable, pronounceable ingredients.
Aim for a raw food bar made with whole foods, such as Elemental bars.
Read the label and ensure it contains at least 2 grams of fiber.
Seek out options with the least amount of sugar, and be aware that most bars contain at least 12 to 14 grams (4 grams of sugar is equivalent to 1 teaspoon of white sugar). Honey, brown rice syrup, and coconut nectar are preferred to agave nectar or high fructose corn syrup.
Avoid bars with artificial sweeteners or sugar alcohols.
Aim for at least 7 to 8 grams of minimally processed protein, such as brown rice protein as opposed to soy protein isolate.
The One Medical blog is published by One Medical, a national, modern primary care practice pairing 24/7 virtual care services with inviting and convenient in-person care at over 100 locations across the U.S. One Medical is on a mission to transform health care for all through a human-centered, technology-powered approach to caring for people at every stage of life.
Any general advice posted on our blog, website, or app is for informational purposes only and is not intended to replace or substitute for any medical or other advice. 1Life Healthcare, Inc. and the One Medical entities make no representations or warranties and expressly disclaim any and all liability concerning any treatment, action by, or effect on any person following the general information offered or provided within or through the blog, website, or app. If you have specific concerns or a situation arises in which you require medical advice, you should consult with an appropriately trained and qualified medical services provider.